Golden Brick Award
The Mid Market Community Benefit District awards the Golden Brick annually to individuals and organizations who have supported the mission of the MMCBD by instituting projects, policies and programs that enhance the District.
Chris Foley, of Market on Market, receives the 2019 Golden Brick Award; Lada Kocherovsky of Page & Turnbull presents him with the award.
Ralph Lee, of Hotel Whitcomb, receives the 2018 Golden Brick Award from Joy Ou of Group i.
Jill Manton from the San Francisco Arts Commission presents the 2017 Golden Brick Award to Yvonne Sangiacomo of Trinity Properties for Piazza Angelo.
The 2016 Golden Brick Award was presented to Gianluca Legrottaglie (left), operator 54 Mint and Montesacro, by the Consul General of Italy – Lorenzo Ortona.
2015 Recipients Laura Stepping and Hillary Tyree of Silicon Valley Bank.
Director of Planning John Rahaim (center) presents to 2014 recipients Ross Stackhouse (left) and Craig Young (right) from Tidewater Capital, for The Hall.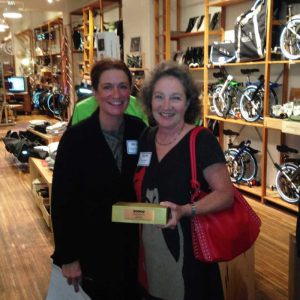 MMCBD Executive Director Tracy Everwine (left) presents to 2013 Recipient Jane Weil, longtime homeowner and advocate for Mid Market residents.